We spend more time indoors and connected to digital devices than ever before. The long and difficult period of social isolation caused by the pandemic situation significantly affected mental health. During the lockdowns, many people began to discover the nature in the immediate vicinity and continue to look for ways to maintain mental balance.
A lot of sad news, mental stress at work and at home, online meetings, distance learning and endless scrolling on social networks contribute to fatigue and exhaustion. A growing number of researches confirm that being in nature promotes health and mental well-being. Many of the studies looked at the time and frequency of being in nature, which can be easily measured. However, scientists have also begun to investigate the psychological concept of "connection with nature", which distinguishes between contact with the natural world and an individual's emotional relationship to nature.

So what is a connection with nature?


Connection with nature is a broader concept than just contact with nature. It means that you really tune in to your surroundings and notice what is happening in nature. You don't have to hug trees in the forest or swim in an icy lake. If you are moving, the slower you go, the better the opportunity to perceive the present moment. The topic of connection with nature is systematically dealt with by Professor Miles Richardson at the University of Derby. The research team identified and described 5 ways to connect with nature: 5 pathways to nature connection:
Senses – Perceiving nature through the senses. Focus your attention on birdsong, the smell of flowers, the structure of leaves or the sunset.
Emotions – Observe the emotions we feel in nature. To stop and notice the good in nature, even in difficult life situations.
Beauty – To notice the beauty of nature even in the little things. Capture it through art, painting, photography or writing.
Meaning – Think about what nature means to us. Realizing the value of nature and looking for something that goes beyond us.
Compassion – Understand oneself as a part of nature. To develop a kind and caring attitude towards ourselves and the environment around us.
The first step is to notice the surrounding nature. Slowing down allows us to engage our senses, appreciate the beauty of nature and feel emotions. Together with the knowledge of values, this creates prerequisites for the care of nature and its protection. These starting points represent a framework for intersectoral cooperation with the aim of building a healthier and more sustainable relationship with nature.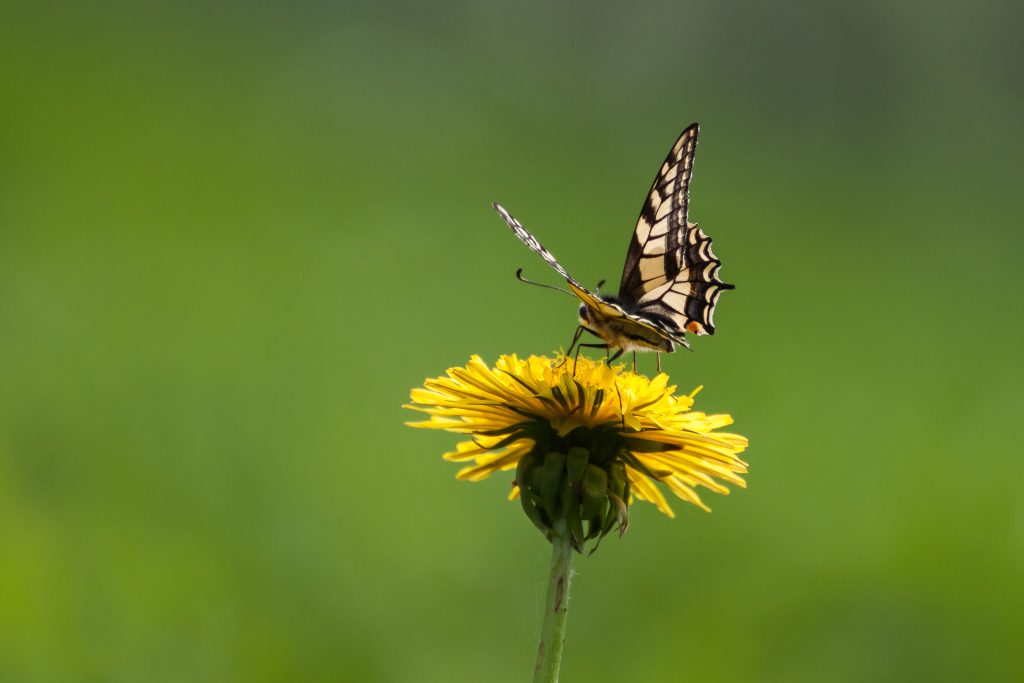 Nature connection for mental well-being and sustainability

In today's fast-paced and over-technological world, there are more and more programs providing structured activities that lead to a connection with nature. The target group is mainly people living in highly urbanized areas. The intention is to develop outdoor activities with a measurable positive social impact, such as ecotherapy, forest bathing, garden therapy and more. In several countries, such nature-based solutions are applied in the prevention of stress-related diseases and as a supplement to profesiional health care. Scientific research proves their potential to help relieve stress and anxiety, recover and build mental resilience. Supporting mental well-being is extremely necessary and will be essential even in the post-pandemic period. Nature could help us in this.

At the same time, we face global problems such as climate change and loss of biodiversity. It is evident that as humanity, we live significantly disconnected from nature. In this context, it seems difficult to understand if we want nature to be good for us and at the same time destroy it. Spending time in nature does not in itself lead to responsible behavior and interest in environmental protection. The results of studies show that activities aimed at connecting with nature have the potential to lead to pro-environmental behavior in addition to improving mental well-being. We can thus support health of people and ecosystems through experiential education and creating conditions for interaction with nature in everyday life. From innovative approaches to activities in nature, through green infrastructure, design and strategic urban planning to the creation of public policies for nature-based solutions.

Sources:
Richardson, M. (2021, October 19). How actively noticing nature not just time in nature helps promote nature connectedness. Finding Nature.
https://findingnature.org.uk/2021/10/19/how-actively-noticing-nature-not-just-time-in-nature-helps-promote-nature-connectedness/
Coventry, P.A., Brown, J.V.E., Pervin, J., Brabyn, S., Pateman, R., Breedvelt, J., Gilbody, S., Stancliffe, R., McEachan, R. and White, P.C.L. (2021). Nature-based outdoor activities for mental and physical health: Systematic review and meta-analysis. SSM – Population Health, Volume 16.
https://www.sciencedirect.com/science/article/pii/S2352827321002093
Richardson, M., Passmore, H. A., Lumber, R., Thomas, R., & Hunt, A. (2021). Moments, not minutes: The nature-wellbeing relationship. International Journal of Wellbeing, Volume 11(1).
https://www.internationaljournalofwellbeing.org/index.php/ijow/article/view/1267
Richardson, M., Dobson, J., Abson, D. J., Lumber, R., Hunt, A., Young, R., Moorhouse, B. (2020). Applying the pathways to nature connectedness at a societal scale: a leverage points perspective. Ecosystems and People, Volume 16(1).
https://www.tandfonline.com/doi/full/10.1080/26395916.2020.1844296
Richardson, M, Passmore, H-A, Barbett, L, Lumber, R, Thomas, R, Hunt, A. (2020). The green care code: How nature connectedness and simple activities help explain pro-nature conservation behaviours. People and Nature, Volume 2(3).
https://besjournals.onlinelibrary.wiley.com/doi/10.1002/pan3.10117